Welcome toWuhu Tonhe Automobile Fluid System Co.,ltd.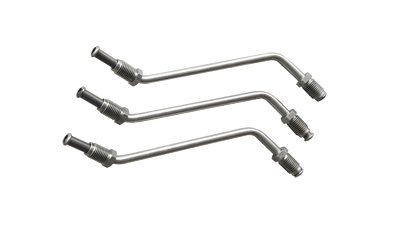 Clutch Pipe
Product Categories:
Clutch System Pipe
Product Introduction:
Connection pipes for automobile use, is to transfer or cut down the power between engine and automotive transmission.
Main Feature
Product Properties
1.Cleanliness: residual impurity inside ≤ 0.194g/㎡.
2.Clutch hose expansion rate: not less than 1.08mL/m under 6.9Mpa; not less than1.38mL/m under 10.3Mpa.
3.Burst Pressure: not less than 49Mpa for clutch hose; Not less than 110Mpa for Clutch Pipe.
4.Clutch hose tensile test: not less than 1500N
5.Salt Spray Test: no red rust for pipe joint during 480h salt spray test.

Clutch pipeline includes clutch pipe and clutch hose.

Clutch pipe is consist of double wall welding tube, bolt joint, and pipe clamp. OD of pipe are φ4.76 and φ6,


Online Consultation
Online Consulting